Optional Data Storage: an EPROM to retain up to 32 programs
NOTE: I am aware that the use of a 64K MOS EPROM, which was not issued before 1980, represents an anachronism during the seventies TTL Bugbook's era and in this project.
So I have dedicated this independent chapter for it, providing APOLLO181 PROCESSOR (which does remain a pure 100% TTL machine) with an optional handy non-volatile data storage.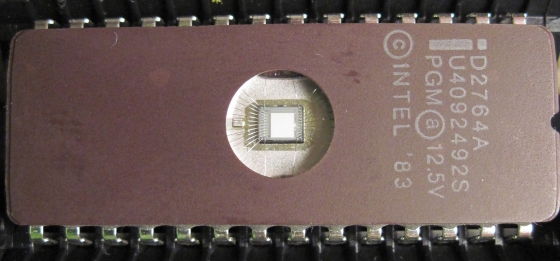 64K ( 8K x 8 ) EPROM which is used to retain up to 32 programs, each 256 Byte long
In 1971 Intel introduced an important invention, the Ultraviolet Erasable and Programmable Read-Only Memory (or EPROM). The Intel new EPROM 1702 could store up to two kilo bits and could retain data when the electrical power was turned off; it could even be programmed several times, while contemporary fuse-link PROM chips had only to be programmed a single time.
EPROMs allowed the programs (used to be stored in read only memory or ROM), to be modified: that was an essential capability in the development of the microcomputer industry in the late seventies and early eighties.
Intel introduced the industry's first EPROM in 1971 and continued to be the leader in this category of memory. In 1978 a 32K EPROM chip was released by Intel and Texas Instruments. In 1981 Intel introduced into the market the first industry's 64K unit, the 2764 EPROM.
| | | | |
| --- | --- | --- | --- |
| Year | EPROM | Size | |
| | | | |
| 1971 | 1702 | 2Kbit | |
| 1975 | 2708 | 8Kbit | |
| 1977 | 2716 | 16Kbit | |
| 1978 | 2732 | 32Kbit | |
| 1981 | 2764 | 64Kbit | <<< |
| 1982 | 27128 | 128Kbit | |
| 1983 | 27256 | 256Kbit | |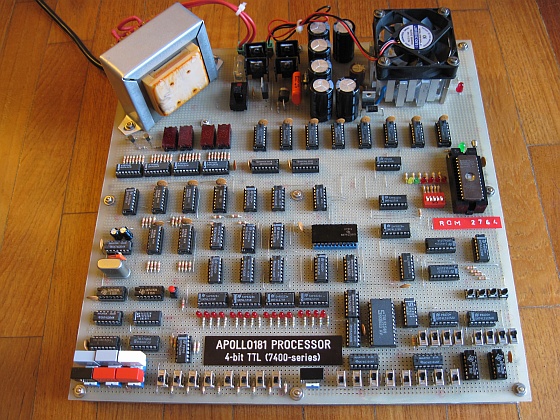 APOLLO181 equipped with ZIF socket for removable EPROM to fast load programs
The 2764 is a 65536 bit ultraviolet erasable and electrically programmable memory (UV EPROM). It is organized as 8192 words by 8 bits and it has 13 address pins. This memory can be easily mapped into 32 segments, each of them 256 byte long. Thus we can store in this EPROM up to 32 programs (or shorter useful algorithms, leaving blank the remanent cells), each of them up to 256 byte long, filling all the memory segments. Then we can easily select any of them, by using five switches connected to the higher address lines, A8 to A12. The remaining lower eight lines, from A0 to A7, are used to address the 256 locations in which are stored the program intructions.
EPROM memories are a factor of three to ten times slower than bipolar RAMs, so they are used here as a bulk removable storage elements: in less than one millisecond, with a single manual command, we copy one program or algorithm from the EPROM into APOLLO181 processor, completely filling its RAM. Furthermore, once the binary program is loaded into the RAM, we can also modify or complete it, by using the data and address binary switches on the APOLLO181 board. Then we can let APOLLO181 processor run at the maximum frequency (3 MHz) that program, which is now resident in the much faster TTL bipolar memory. Of course any modification done under APOLLO181 will be lost as soon as we turn the power off.
By adopting a Zero Insertion Force (ZIF) 28 pin socket, we can also easily remove the EPROM and substitute it with a similar one containing other different additional 32 programs.